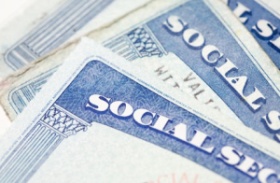 Below are some of the most Frequently Asked Questions about Social Security and your retirement benefits. Check back with SocialSecurityOffice.info regularly as we will be adding expanded articles that will go into these questions in more detail.
When can I get Social Security retirement benefits?
You can begin getting Social Security retirement benefits as early as age 62. But your benefits will be reduced by as much as 30% below what you would get if you waited to retire until your full retirement age.  Full retirment age is 66 for most people and if you wait until then to receive your Social Security benefits, you will receive the full amount.  You also can wait until age 70 to start your benefits. If you do, you can receive increased benefits because you will have earned "delayed retirement credits."
How do I apply for Social Security benefits?
It is recommended that you apply for retirement benefits three months before you want your payments to start.
Visiting an Office
While you can do most of your business with Social Security online, one of the most popular ways to apply for Social Security benefits is still to visit your local Social Security Office. Our Social Security Office locator will help you find one near you.  Local employees from these offices are assisting people by telephone. You can find the phone number for your local office by using our site.
Apply by Phone
You can find the phone numbers for your local office in our list of Social Security Offices on this website.  navigate to the Social Security office near you and you will find the address, driving directions, map, and phone number for your local office.
Applying Online
You may also apply online by going to SSA.gov
What documents will I need to apply for Social Security
These documents  may be needed in order to apply for Social Security Retirement Benefits:
Original birth certificate or other proof of birth [more info] (You may also submit a copy of your birth certificate certified by the issuing agency);
Proof of U.S. citizenship or lawful alien status if you were not born in the United States [more info];
Copy of your U.S. military service paper(s) (e.g., DD-214 – Certificate of Release or Discharge from Active Duty) if you had military service before 1968; [more info]; and
Copy of your W-2 form(s) [more info] and/or self-employment tax return [more info] for last year.
Your state of federally issued driver's license
How do I replace my lost or stolen Social Security Card?
You are entitled to 3 replacment cards in a year and 10 in your lifetime.  Keep them safe!
Visiting a Social Security Office
This may seem like the slowest method but it may be the safest.  No need to worry about your application getting lost of stolen in the mail.  You can use this site to find the closest Social Security Offices.
In a nutshell, 1) print off the application from SSA.gov; 2) Gather the necessary documents; and 3) find your local office from our Social Security Office directory
You may also create a MySocialSecurity account on SSA.gov and try it that way.
How long will it take to get my Social Security card?
Replacement cards should arrive within 10 business days of submitting your application. You can request a temporary social security card from your local office.
How can I change my address?
If you get Social Security benefits whether, retirement, survivors, or disability benefits or if you are enrolled in Medicare, you may change your address online by using a my Social Security account.  You may also call or visit your local Social Security Office for help.
If you don't have a U.S. mailing address or you are receiving Supplemental Security Income (SSI), you are not eligible for this service.  However, if you are receiving SSI, you can still check your address we have on record via the My Profile Tab on my Social Security.
How do I change or correct my name on my Social Security number card?
You must tell Social Security if you legally change your name because of marriage, divorce, court order or any other reason, so you can get a corrected card. You cannot apply for a corrected card online. The same applies once you receive the I-766 card, Employment Authorization Document (EAD), from the U.S. Citizenship and Immigration Services (USCIS).
To get a corrected Social Security card, you will need to:
Show the required documents. You will need proof of your identity. Sometimes you also may need to prove your current U.S. citizenship or lawful noncitizen status.
This can be done at your local Social Security Office.  You can find a list of offices near you in our Social Security Office Directory